(Source: cRc.org) The cRc (Chicago Rabbinical Council) is proud to announce the second annual release of the Buffalo Trace Kosher Whiskey. This trio of Whiskey products, produced every year after Pesach, is made with careful oversight to ensure that it was produced under the strictest kosher standards. This includes verification that it wasn't under Jewish ownership over Pesach throughout the many years of maturation. Look for the cRc logo on the bottle.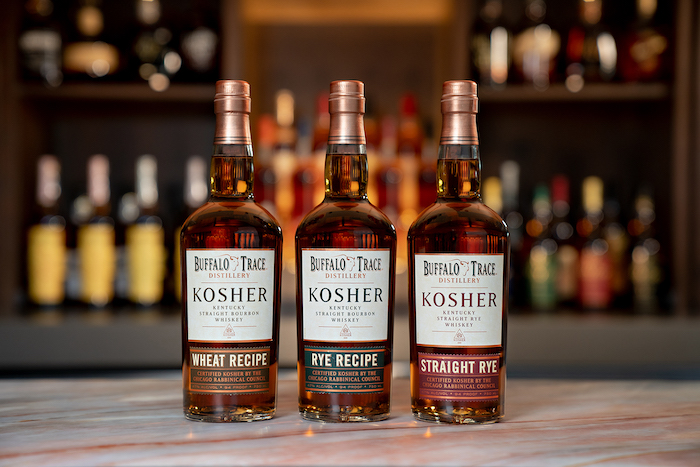 In 2021, following the Passover season, the new batch of whiskey will be available in three styles (see image above): Kosher Rye Recipe Bourbon; Kosher Wheat Recipe Bourbon; and Kosher Straight Rye Whiskey.
Now that the whiskey has reached its desired age, the bottling lines at Buffalo Trace's Distillery will be flushed completely before bottling to ensure the whiskey is not exposed to any non-Kosher spirits.
Made with the same high quality grains as Buffalo Trace Bourbon Whiskey, this Kosher spirit was aged in specifically designated Kosher barrels. In order to satisfy Passover requirements, these barrels were sold to a non-Jewish executive in a ceremony witness by a representative from the cRc.
After aging for seven years, this Rye Recipe Bourbon was bottled at 94 proof after ensuring the bottling lines were cleaned beforehand and that no contact was made by non-Kosher spirits. Released after Passover each year, this Rye Recipe Bourbon is bold and independent, celebrating its heritage from America's oldest continually-operating distillery.
Bottling waited for the end of Passover
As Passover ended this year on April 4th, the whiskey will be released to distributors after bottling later this month. Bottles will sell through wholesalers and retailers before Passover begins again in 2022.
"We were overwhelmed with the popularity of our Kosher Whiskey when we first released it last year," said Drew Mayville, Buffalo Trace master blender and director of quality, in a prepared statement. "We realize having a truly certified Kosher whiskey is important to not only the Jewish community, but also a broader audience, and we're pleased that we have the ability to offer it each year to reach this audience."
The new line is limited, but it will continue to be an annual release each year after Passover. The labels depict both Buffalo Trace Distillery logo and the cRc-Kosher logo. Each expression of Buffalo Trace Kosher Whiskey has a suggested retail price of $39.99 per 750ml bottle.
Buffalo Trace Kosher Whiskey is NOT for Pesach
It has come to our attention that a local liquor store mistakenly advertised the Buffalo Trace Kosher Whiskey as being Kosher for Pesach. However, like all whiskey produced from grains (such as Bourbon and Scotch), this is not Kosher for Pesach and may not be consumed or owned by Jews over Pesach. Corrective action has been implemented.
You can find any recipe using Whiskey on this site.